INTERVIEW
How did you start working on comics?
Elisa Féliz: I started back in 1998, when I managed to get a space in the main national newspaper here in Dominican Republic to publish my one-page comics.  I was 10 years old back then, so my mom took me there to talk to the editor in chief. It sounds so funny, but it worked. Not long after, I started building my first websites to share my artwork online. Then in 2007 I started getting offered gigs in the US industry and so I continued to do that work while attending the Kubert School.
Were you a fan of the original TV show? What was it about "Charmed" that made you a fan? Question by Jak
Elisa: Yes, I was a huge fan! I remember the show was always so fun to watch and we didn't want to miss an episode. I think what attracted me the most about the show was the relationship between the sisters and also, those fresh details that made their magic world different from what I had seen in the other shows and movies.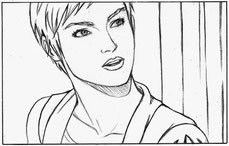 If possible to answer, who is your one favorite character in the series and why? Question by Mia
Elisa: When we used to watch the show my brother and I decided that our favorite character was Prue. She was the powerful one and the protector of the family. After she got killed we didn't watch it as often, but without Prue, my favorite then would be Piper.
What is your process of drawing the sisters? Are there any specific steps you follow working on an issue? Question by LeoVzla
Elisa: I do the usual stages: Draw the layouts as thumbnails first, then the full-size roughs and then the final page. For every drawing I do a light underdrawing first and then do the final pencils over it. I never build the figures using shapes, I just start drawing it. For the likenesses I use reference every time I can.
What tools do you use to create an issue of Charmed Season 10? Do you create the interiors with a graphic tablet or with paper and pen? Question by TomTom
Elisa: I always use Bristol board and mechanical pencils.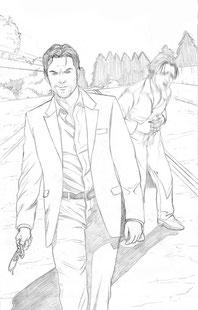 What is your favorite piece of artwork you have done for this series thus far be it a single image on a page or a full page, which do you like best? Question by StoryGirl83
Elisa: It's hard to pick one… From the ones that have been published already, it's probably the splash page at the end of issue 3.
What is the most difficult part of drawing for Charmed? Who is the easiest and the hardest character to draw? Questions by LeoVzla, Sue K, Jean, TomTom
Elisa: Doing the likenesses while drawing so fast and drawing the manor are the hardest parts of it. I think for me, Paige is the easiest to draw of the sisters and Phoebe the hardest.
Are there any specific characters or scenes from the show you would like to draw but haven't had the chance to do so far? Question by Jak
Elisa: Well, I've drawn almost every character I wanted, but there are a few characters left that I 'd like to have the chance to draw. Like Freyja and Mist for example. Drawing Melissa George and Ivana Milicevic would be definitely fun. Or maybe drawing Ava or Tempus… Do Michelle Branch, Liz Phair and The Cranberries count?
As a fan, what do you think of the season so far? Which is your favorite plot development?
Elisa: I think it's great!  I love it when it feels like you are watching the show. And there is still that humor and witty dialogue present. Something that I really liked that Pat created for the season was the whole thing about Valen and the ancient Athame. The characters were into real danger this time and I was curious to see the conclusion. Now there is something even bigger building up, but I can't tell you about it.

What was your reaction when you read Pat's script and realized you were to draw Cole's last moments?
Elisa: It was unexpected, I couldn't believe we wouldn't see Cole, He was such an important character from the show that I wanted to keep drawing and having his soul destroyed, he couldn't be brought back. But then I got to draw him again as Ben after issue 10. ha!
Last season had a lot of artists. You are doing most of this season. Once it is completed, you will have done more issues than anyone else. What are your thoughts on that? Question by StoryGirl83
Elisa: I feel Charmed! Very, very fortunate and grateful. I honestly didn't think I could stay this long. I'm always impressed with the other artists' work. It's so good and it is fun for me to see how they handle things in such a different way. Being a fan of the show, this job is a dream come true for me, so, I could do this forever if it was possible. It will be certainly sad when the season comes to an end, but I'm sure Pat will leave us satisfied.
What other projects are you currently working on and where can people find you online?
Elisa: I don't have much time to work anything else now that I'm working on Charmed, but I still do some work for my clothing line, Elliz Clothing and sometimes I do some inking in my spare time. Recently I did some inks for a comic called "No Barriers".
You can easily find me online, at my official site elisafeliz.com, at facebook (https://www.facebook.com/elisafelizofficial) or (https://www.facebook.com/elisafeliz) to follow me. Also at deviantart (http://elisa-feliz.deviantart.com)  or soundcloud (https://soundcloud.com/dj-ellix ) and I opened an instagram account @elisa.feliz
Lastly, is there anything you want to add or share with the fans?
Elisa: I'd like to thank everyone for following the series and being such active fans. It is very appreciated!